Jon Smith Subs Turbocharges Revenues with Nextbite Virtual Brands
Roger Goode, co-owner of a Jon Smith Subs franchise in Mount Pleasant, South Carolina recognized his restaurant's downtime as an opportunity to generate revenue using Nextbite's virtual brands. He targeted two day parts – breakfast and afternoon between lunch and dinner – and matched menus with heavy overlap with his existing inventory to successfully turbocharge his restaurant's revenues.
Nextbite's portfolio of 14 brands encompasses all day parts and many cuisines. As Goode explains, "The two lunch/dinner brands [The Big Melt, Miss Mazy's Amazin' Chicken] are easily incorporated into our regular hours, while the breakfast brands fit easily during pre-lunch prep."
The selection of Nextbite brands allows restaurants to start with virtual brands with little risk. "We picked the brands [Hatch House, Huevorito, The Big Melt and Miss Mazy's Amazin' Chicken] that closely matched the inventory and supplies we already stocked," Goode said. "By intentionally selecting these brands it wasn't a heavy lift to get started and we weren't incurring additional or unnecessary expenses," he adds.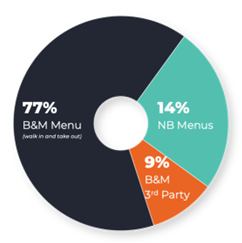 Once the brands are selected, Nextbite provides virtual training, as well as printable build charts to reference while in the kitchen. "We chose brands that we thought would be fairly easy from a training and execution standpoint. The build charts and videos for each brand greatly assisted getting the team up to speed on preparing the virtual brand menu," said Goode. "The majority of our staff are on the younger side, so visual training materials are ideal and easy to follow," he adds.
Nextbite's support also includes marketing of the brands on the delivery service providers, like Uber Eats and Doordash, to ensure that potential customers find the new locations. With over a year of experience, under his belt, Goode has learnings to share with any new restaurant owners adding virtual brands. "Be prepared during your initial launch, but don't overstock additional items for the virtual brands until you get a good gauge of the additional volume."
Nextbite's advisors are available to help any restaurant match virtual brands with their underutilized kitchen capacity. Goode is encouraging, "Definitely give it a try. Conduct your own due diligence about what brands you think will work locally."