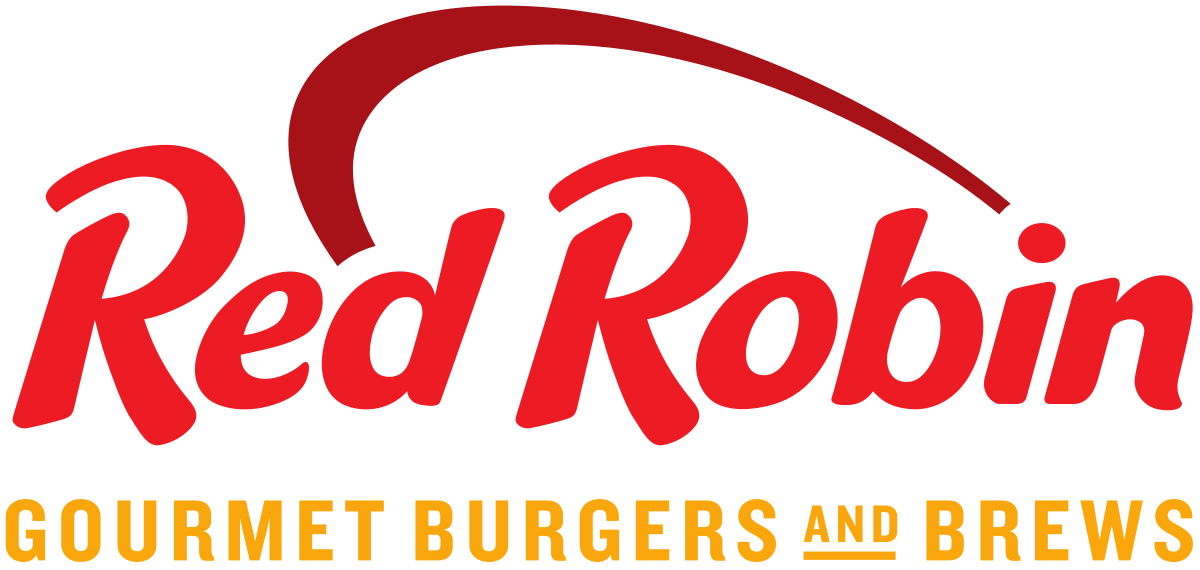 Getting setup is quick and easy!
We'll be here to help if you have any questions. Please follow the simple instructions below to get your Ordermark equipment set up and activated. Should you have any questions, please contact Support at (213) 352-5180.
Ready to activate or schedule your call?
Click here
Your Ordermark Equipment includes The Ordermark Tablet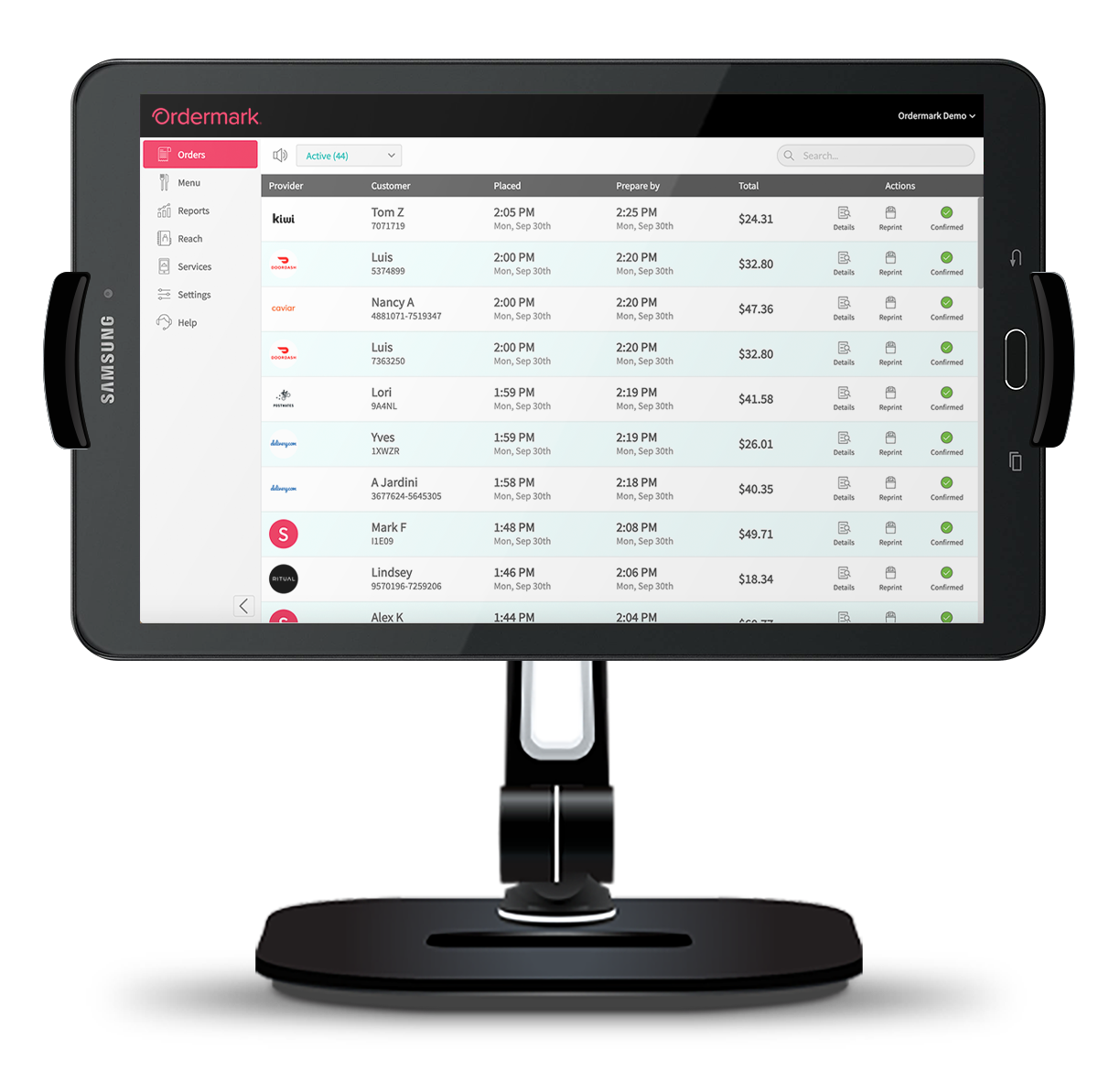 Follow these simple steps to set up your Ordermark equipment!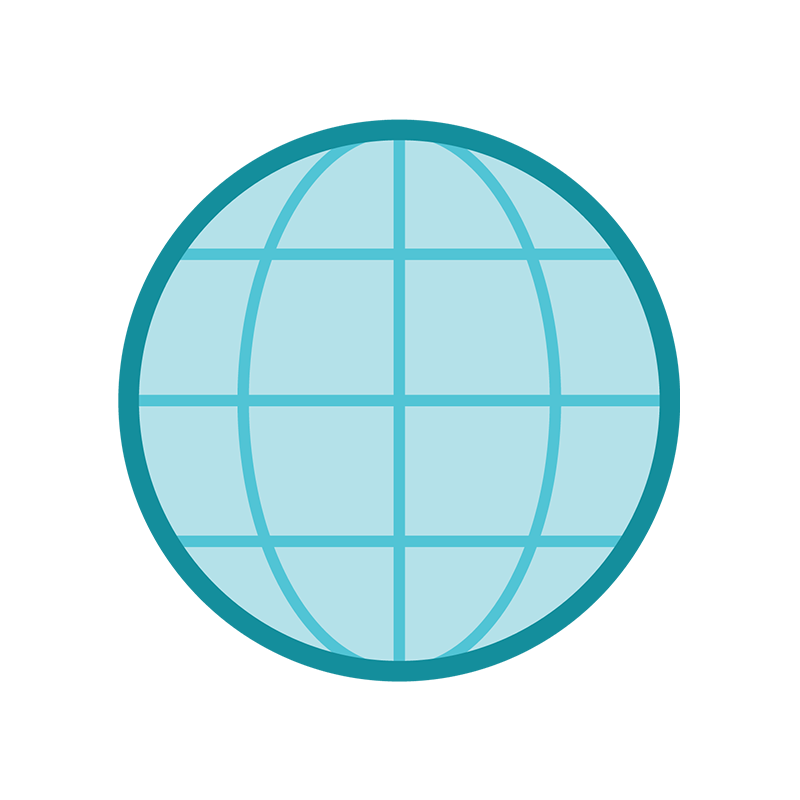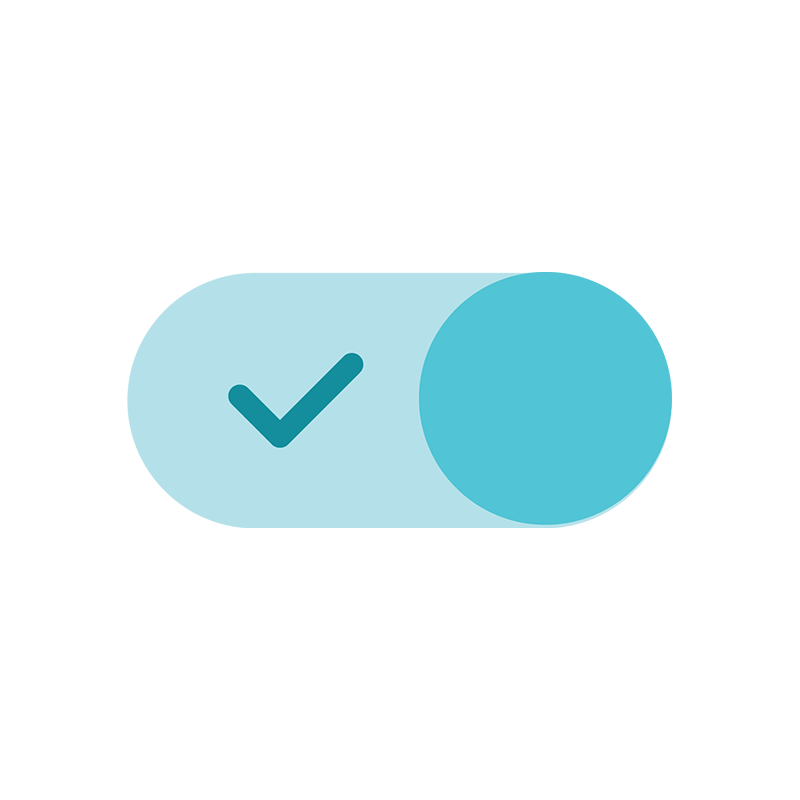 A – Setup your tablet
Place the Tablet in the Tablet Stand, connect it to a power source and turn it on.
B – Setup your Wifi
On your Tablet's Home Screen, select the setup icon.
A Setup Screen will appear, click on "Select Wifi" for a list of available Wifi connections.
Select your restaurant's Wifi, enter your Wifi password, then "Save".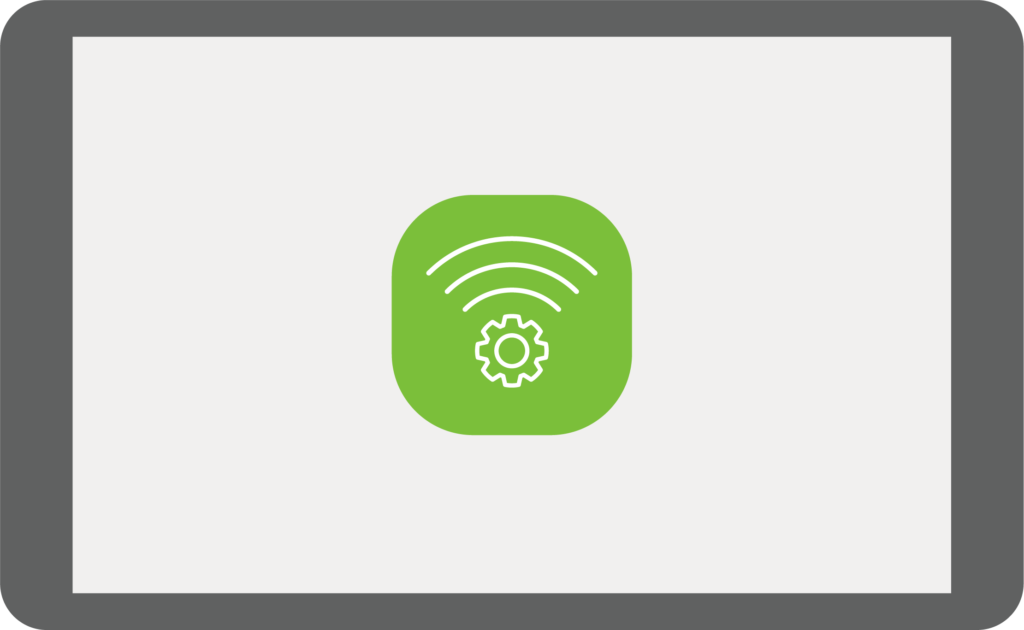 Great! Your tablet should now be connected to the Internet!
Activate Your Ordermark System
Before we can begin processing orders through your Ordermark System, we'll need to set up a quick Activation call. Please select a date and time below or when your hardware is setup, give us a call at (833) 673-3762
Using the Tablet for Submitting Issues:
86ing

Driver/Order issues

Upcharging

Temporarily Pausing Service (approval required)
86ing
Staff can make quick, on-the-fly changes directly from the dashboard. In the event that staff needs to 86 a menu item, they can do so from the Menu tab. Once an item has been 86'd from the tablet, it will be updated across all online ordering platforms automatically.
Driver/Order Issues
Should staff members need support for driver or order issues, help tickets can be submitted through the dashboard. If a driver does not show, or an order is packaged incorrectly, simply view the ticket details of the order from the Orders Homepage. From here, staff can type out the issue and submit it to our team to resolve.
Upcharging
To upcharge a menu item that has already been fulfilled, please view the ticket "Details" from the Orders Homepage and submit a request to our team.
Pausing Service
Pausing services can be completed from the tablet (from the Services tab) or by contacting Support at (213) 352-5180.
Download and print your helpful Troubleshooting Guide for staff to easily reference during their shift.
Download PDF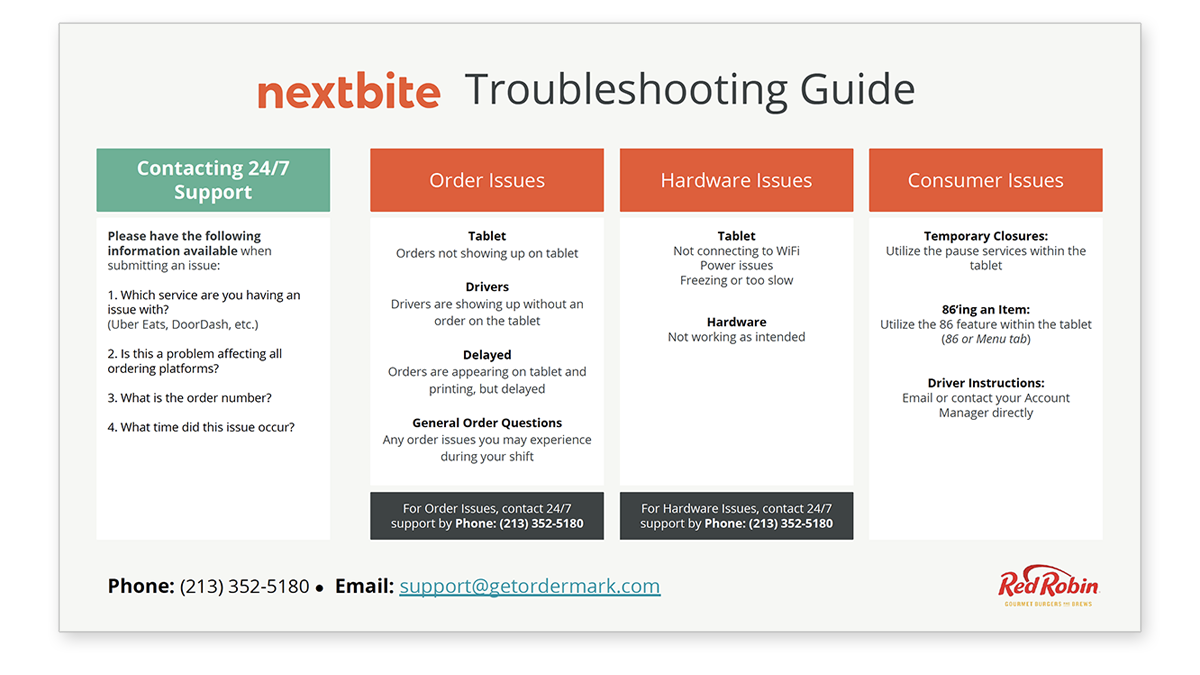 A delivery driver arrives to pick up an order, but I did not receive the order on the Ordermark tablet or printer.
Call Ordermark support at (213) 352-5180 immediately to report the issue.
I want to 86 an item from my menu.
Kitchen staff employees can use the Ordermark tablet to 86 items from the menu. Click on the MENU & SERVICES tab to do this. You can also access this tab online through the Ordermark dashboard.
I need to close the store temporarily.
Kitchen staff employees can use the Ordermark tablet to pause the store. Click on the Order Screen tab to do this. You can also access this tab online through the Ordermark dashboard.
The delivery driver is late or never arrives to pick up the order.
Call the online ordering service directly. They will either resend a driver or they will cancel the order and refund the customer. You will still be paid for the order.
A customer calls the restaurant to request a refund.
Instruct the customer to request a refund through their delivery app or to call the online delivery service directly. Restaurants are unable to process refund requests.
The delivery driver gets the wrong order.
Please contact the online ordering service directly to report the error.
PlayerLync is your web-based library of Nextbite's culinary training materials. You'll access your PlayerLync dashboard for marketing materials, prep menus, training videos, inventory lists and more.
Website: https://nextbite.playerlync.net/app
Please contact your Account Manager, Nina Sung, to request your login information.
Once you log into the system you will find your Concept Menus folders:
Food Prep Manuals – including training videos
2 Week Starter Inventory Prep Lists
Your Ordermark tablet will need to be located within an area where the kitchen staff can easily view & interact with the tablet. All of your orders will come through the Ordermark tablet.
Printer and Tablet Station Ordermark Tablet & Printer
Keep the Ordermark tablet plugged in with the provided charger to manage your orders without interruption (and to prevent the tablet from dying!)
Make sure the Ordermark printer's volume is turned on at all times
Flip the stand upright to remove stress on the charger
Keep the tablet away from extreme temperatures (i.e. stoves or ovens in your kitchen)
Most Partners keep their tablet at the Host Stand or Expo line
Preparing Orders
Designate a special prep area
Designate an area for finishing and packaging
Always use the correct, approved packaging to ensure food stays fresh from store to door
Checking Orders
One of the most commonly reported problems with delivery orders is missing or incorrect items. Prevent negative reviews & keep customers coming back with a couple of best practices.
Recommended Best Practices
The kitchen staff must carefully review the details for each individual order.

This includes any special instructions listed by the customer, before handing it to the driver

Use a marker to check off each item on the receipt, ensuring each item is placed in the bag
Write item descriptions on the packaging so they are easy to identify
Whomever is responsible for checking an individual order should sign/initial the receipt (to hold them accountable!)
Separate foods by temperature- keep hot and cold foods in separate bags, when possible
Pay special attention to food allergies! Food allergens must be clearly identified and kept separate from the rest of the package contents
If an allergy is specified in the online order, make sure it's circled or highlighted on the receipt so the customer is aware you have accounted for it
Seal packages tightly
Make the receipt visible
Packaging Orders for Transit
Proper packaging will preserve the quality of the food and prevent any food safety issues. Poorly packaged food = unhappy customers
Handing Order to Delivery Driver
Designate a specific area for kitchen staff to handoff all delivery orders to couriers (or a place for couriers to pick orders up).
Recommended Best Practices
Designate Delivery Shelving

Place orders on shelves designated specifically for orders picked up by delivery couriers

Create Clear Signage

Display in-store signage that is clearly identifiable for online orders

Identify Delivery Couriers

Many couriers are not required to wear company uniforms, so they may come in street clothes. Keep an eye out for branded hats, bags, etc.

Triple Check your Order

Kitchen staff must confirm the order name or number with the driver before handing it off