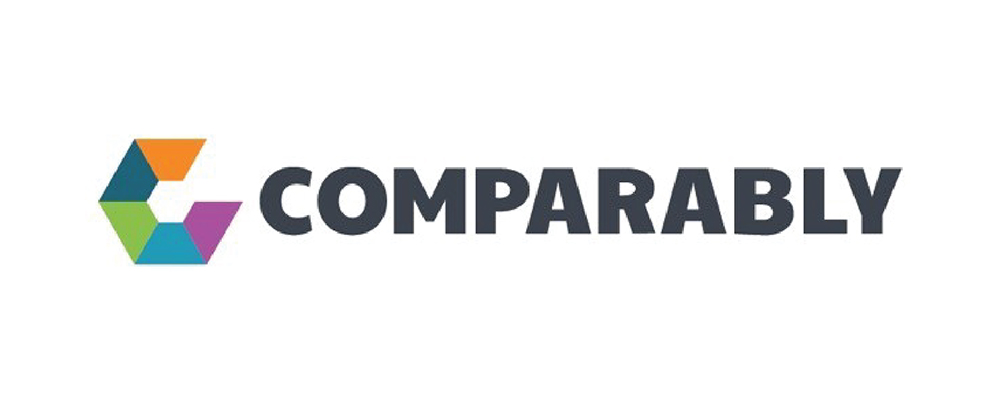 Comparably's Best Places to Work in Los Angeles 2021 list is based on sentiment ratings provided by current employees in the greater Los Angeles area who anonymously rated their employers on Comparably.com. Ratings are derived from anonymous feedback on Comparably.com within the past 12 months. Nearly 20 different workplace culture categories were measured, from compensation, leadership, and work-life balance to professional development opportunities, and perks and benefits. All ratings were given during the COVID-19 pandemic (March 2020 through March 2021), making this list especially relevant for job seekers looking for a great place to work in the area. Detailed methodology is outlined below the lists.
Best Places to Work – Greater Los Angeles Area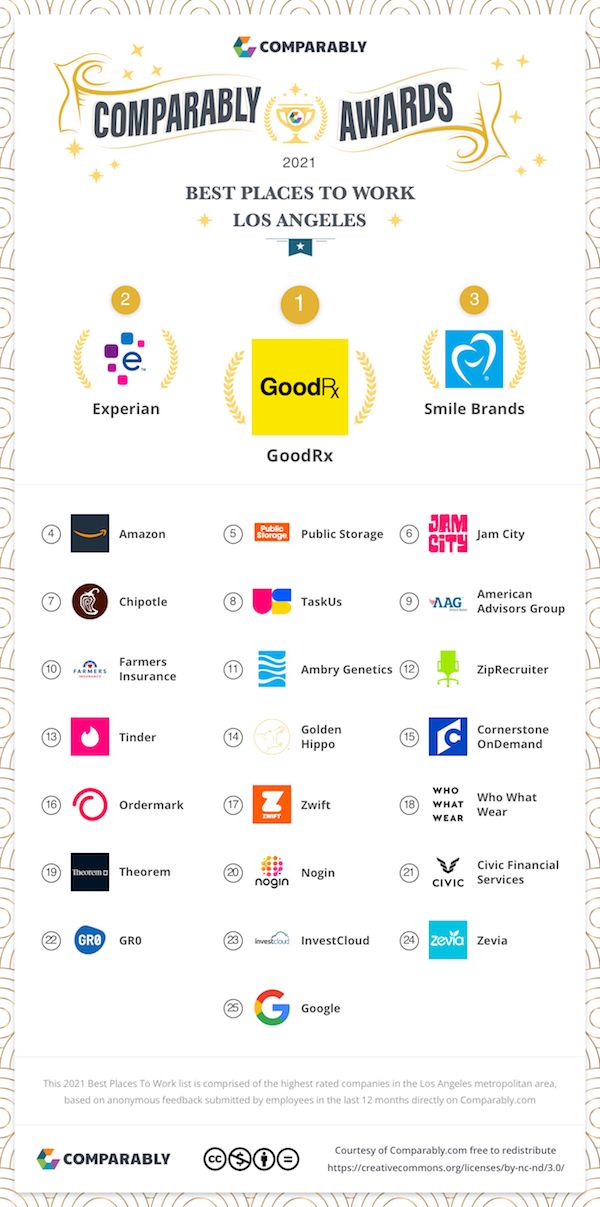 Methodology
This set of Comparably Awards is derived from sentiment ratings provided by employees in the greater Los Angeles area who anonymously rated their employers on Comparably.com during a 12-month period (March 22, 2020 through March 22, 2021).
Winners were determined based on employee feedback to a combination of workplace culture questions in nearly 20 categories, including compensation, leadership, and professional development opportunities to work-life balance, perks and benefits. Questions were asked in a variety of data-driven formats – in yes/no, true/false, 1-10 scale, multiple choice – providing an accurate and comprehensive look at what it's really like to work at companies.
The answer to each question was given a numerical score and then compared to companies of similar size. For fairness and statistical significance, additional weight was given to companies with more participation from their employee base.
There were no fees or costs associated with participating, nor was nomination required. The final data set was compiled from thousands of ratings on Large and SMB companies in the region. To qualify, Large companies (more than 500 employees) must have met a minimum of 75 employee participants and SMB companies needed 25 employee participants.
For Awards FAQ, please go to www.comparably.com/awards
About Comparably
Comparably (www.comparably.com) is a leading workplace culture and compensation monitoring site that provides the most comprehensive and accurate representation of what it's like to work at companies. Employees can access salary data and anonymously rate their workplaces in nearly 20 different culture categories, providing the public a transparent and in-depth look at the experiences workers have based on their gender, ethnicity, age, tenure, industry, location, and education. Since launching in 2016, Comparably has accumulated 10 million ratings from employees across 60,000 North American companies. It has become one of the most used SaaS solutions for employer branding and one of the most trusted third party sites for salary and workplace culture data. For highly-cited workplace culture and compensation studies, including Comparably's annual Workplace Culture Awards: www.comparably.com/news.