Delivery Rates Doubled in 2020 and Continue on Steady Upward Trend
Many experts describe breakfast as the most important meal of the day, but new market trends suggest it can also be important for restaurants expanding into the virtual restaurant arena. The breakfast delivery day part more than doubled its share in 2020 over 2019, according to industry research firm Technomic. The trend, that began to take off during the pandemic, is continuing to rise into 2021, as evidenced by a recent report from Edison Trends that reveals through June 2021, the 2021 U.S. digital spend on breakfast items via delivery apps was up 263% over 2020. Become a Fulfillment Partner and increase revenue through breakfast today.
Breakout Market Opportunity
It is clear that the breakfast delivery segment is exploding. 39% of consumers order breakfast delivered once a month or more with 1 in 5 ordering more often. Men are more likely to order breakfast delivery than women.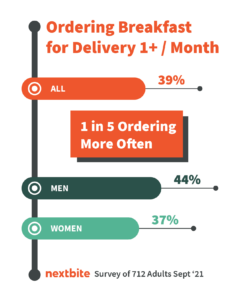 The question for many restaurants is how to break into the game quickly and without disrupting their current business. The big QSR players have already seen the huge market potential and pivoted to put an emphasis on breakfast items for delivery or take out, but virtual restaurant leader Nextbite still sees the market as wide open.
According to Nextbite CEO Alex Canter, "The delivery breakfast opportunity is just getting started and shows tremendous opportunity. Small and medium businesses can quickly jump in the game and take advantage of this added revenue stream using the kitchen and staff capacity they already have. The fastest path is to find the right partner to provide a turnkey delivery-only solution with delicious breakfast concepts."
A good way for restaurants looking to break into the breakfast delivery business is to start by adding a breakfast sandwich menu. In fact, a recent survey (September 2021) by Nextbite found that breakfast sandwiches topped the list of favorite breakfast foods with 24% of consumers saying it was their favorite item and 21% saying it was their second favorite item. This is not your father's Egg McMuffin either – the breakfast sandwich concept of today has radically evolved and been reinvented to appeal to consumers who want more delicious choices and more high-end gourmet ingredients.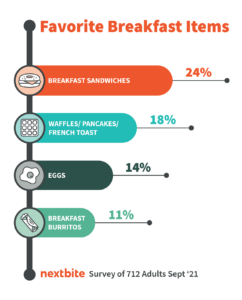 Partner for Success
Working with a virtual restaurant partner, such as Nextbite, restaurants of all sizes can try one or more proven breakfast menu concepts that are developed by Nextbite's world-class culinary team, sourced by their experienced operations team, and backed by its data-driven marketing program to drive customer orders. All Nextbite menus are seamlessly connected with delivery services such as Uber Eats, DoorDash, Postmates and Grubhub.
Nextbite offers Hatch House, a breakfast sandwich concept featuring an "everything" bagel or brioche filled with the customer's choice of eggs, meats, veggies, cheese and crafted aiolis. Hatch House appeals to the gourmand looking for everyday convenience without sacrificing a premium experience, featuring elevated ingredients like aged cheddar, crispy fried avocado, and chili crisp aioli.
Another option from Nextbite is Crack't, featuring classic brunch-inspired flavors with its imaginative selection of over-the-top breakfast "sammies." With an exciting and on-trend menu, Crack't combines traditional breakfast favorites with a new culinary flair like hot chicken and waffles and buttermilk biscuits smothered in country-ham aioli.
Breakfast and More
Once a restaurant establishes one or two breakfast concepts, they can experiment with other menus and also expand their day parts to optimize for staffing and kitchen downtimes. It is noteworthy that today's consumers aren't just eating breakfast items in the morning. Nextbite's survey revealed that 26% of dinners ordered include breakfast items and that 20% of men order breakfast for an afternoon snack, once a week or more. Some Nextbite restaurant partners that operate a brick and mortar lunch and/or dinner business are having strong success adding a virtual breakfast concept or two to utilize their kitchen space and labor during their off morning hours for an expanded revenue stream.
Another smart business strategy for restaurants adding virtual breakfast concepts is to maximize their orders with additional menu items that use some of the same breakfast ingredients. This can be an easy way to expand the revenue opportunities with a range of items beyond breakfast such as delicious burger concepts – Nextbite's Craveburger is always popular – or try out emerging healthy offerings for vegetarian consumers such as Nextbite's Veg-e-licious.
So don't sleep through breakfast. The time is right for restaurants to break into the fast-growing delivery segment and breakfast is the perfect way to start. Consumers have embraced delivery and the demand for convenient, tasty dishes at all hours is expected to continue growing. Join in the breakfast bonanza and it could be the most important meal for restaurants too.
Interested in becoming a Fulfillment Partner? Learn more about Nextbite breakfast brands and other concepts by contacting us today.